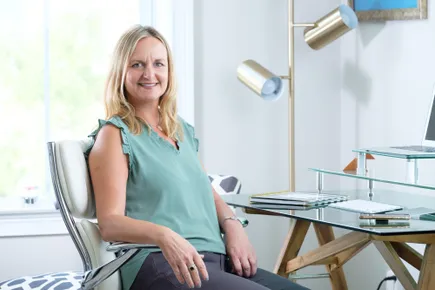 Thank you for considering me to help you. The most important thing in predicting success in counseling is your relationship with the therapist. I love connecting with all of my clients to help them feel safe, heard and ready for change. In my training, I loved learning about the brain and studying human behavior. My favorite areas of study focused on techniques and strategies that tap our awareness and inspire positive change.
I am licensed as a Professional Counselor in Washington DC, Virginia, South Carolina and Florida. I hold an undergraduate degree in Psychology and a Masters in Community Counseling. I am certified in Perinatal Mental Health by Postpartum Support Imternational. My postgraduate studies focused on treating Trauma, Anxiety, and understanding the mind-body connection. I studied Cognitive Behavioral Therapy with the Beck Institute and Interpersonal Psychotherapy with the IPT Institute. I also hold certification in Telemental Health & Digital Ethics from the Zur Institute. I am trained in EMDR and actively working towards certification through EMDRIA. I also have specific training around perinatal loss and grief as well as birth trauma.
My early mental health experience began working at the Vienna Women's center. I also worked doing home visits with the severely mentally ill in Washington, DC. Followed by counseling for the Loudoun Abused Women's Shelter and then the Fairfax County Office for Women in the Domestic and Sexual Violence Services unit where I gained extensive experience with survivors of interpersonal and sexual violence.
As my life evolved, so did my practice. Personally living the trauma of two difficult births including an unplanned cesarean, VBAC, ICU, and NICU fostered my desire to use my skills to help others during such a transformative stage of life. With that focus, I became a professional member of Postpartum Support International, Postpartum Support Virginia, and International Cesarean Awareness Network. For over ten years I have worked closely with women in all stages of pregnancy and early motherhood. I have helped clients through birth trauma, infant loss, infertility, and adoption. I also continue to enjoy my work with men and women working to improve their mental health. I often work with clients years beyond their perinatal stage of life.
My Approach & Values

Life is to be enjoyed, not just endured
Right from the start, we will work together towards producing positive change that helps you discover more Joy! My counseling philosophy is based on the principle of partnership – I join with you on a journey that often recalls the past to understand the present and prepare better tomorrows. I use Cognitive Behavioral Therapy to help clients develop real skills to take with them. Acceptance and Commitment therapy is a tool used to decrease judgement and match your choices to your values.
My treatment approaches utilize modern therapy techniques including IPT (Interpersonal psychotherapy). This a collaborative approach that helps clients resolve symptoms, improve interpersonal interactions, and increase and access social support using a Biophysical/Cultural/Spiritual Model. I also believe in a holistic therapy approach that uses mind-body practices that help improve awareness and acceptance of symptoms. I added EMDR to my practice in 2022 as an additional tool to help clients that feel stuck in trauma reactions.
If you are looking for extra support and guidance through a challenging situation or you're just ready to move in a new direction in your life, I look forward to working with you to achieve your goals. I offer flexible and convenient therapy through Telehealth sessions. You can be in control of your healing journey by choosing therapy services that are convenient and accessible.
Isn't it time to take care of YOU ?
If you are ready now or at a future time to have that free exploratory conversation, just fill out the form below and my office will get you scheduled.
Let's get you feeling better,
-Heather